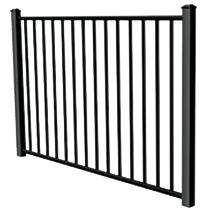 Image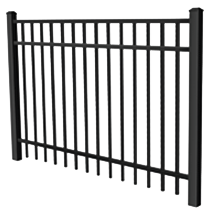 Laurel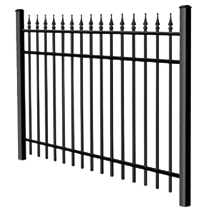 Vega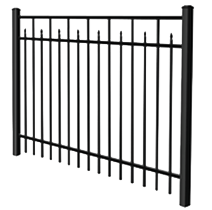 Icon
Pickets

5/8" Square x 17 GA (0.055")

Rails

1" Square Channel x 0.071" Wall

Post

2" Square Tube x 0.060" Wall

Gate Post

2" Square Tube x 0.120" Wall

Picket Spacing

3 13/16" Gap between picket (96.8 mm)

Post Spacing

3 13/16" Gap between picket (96.8 mm)

Section Height

48", 54, 60", 72"

Post Length Available

72", 84", 100"

Height to Top Edge

46", 58", 70"

Colors Available

Black, Green, Bronze

Walk Gate Opening

36", 48", 60"

DD Gate Opening

120", 144"
A residential fence adds personalized touch to your house along with the sense of safety, by providing protection against intruders, wildlife and marking a boundary for your kids to play within. The material you choose such as wood, vinyl or metal should be based on your needs and budget.
If you have a pool in your house, you must go for a professionally carried out fencing job. Keeping in mind, children, especially toddlers in addition to the elderly, guests and even animals, safety is an essentially important part of the list of factors that go into installing fences around the pool.
Not to mention, the added benefit of an augmented appeal in the aesthetic aspect. Swimming pool gates lend a great sense of discreet grace and beauty to the overall appeal of the pool and by extent, of your house.
At Aruvil, you can choose from a wide range of designs and colors including brown, black and green, as per your choices and needs.
We take care of the unique needs of every client. So, in addition to the design, color and installation of the fence as per your requirements, if you want self-latching doors or any other specific instructions, given the design or size of your pool or personal preferences, we will come through, with what you expect from us.
Bearing in mind, safety and aesthetic appeal; the two reasons why people install pool fencing, a metallic fence or an aluminum pool fence would be the ideal choice for the purpose.
With the standard of quality and wide range of installation options we provide, you can be rest assured that the fencing needs for your house and pool are in safe hands, with Aruvil.