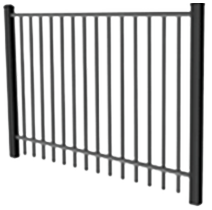 Titan
Integra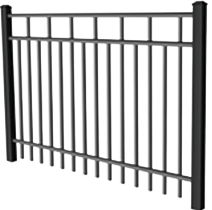 Noble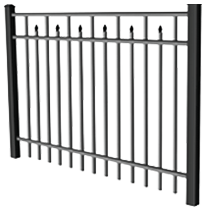 Icon
Pickets

5/8" x 1" x 17 GA (0.055")

Rails

1 1/4" Edge Curled Channel x 0.079" Wall

Post

2 1/2" Square Tube x 0.080" Wall

Gate Post

2 1/2" Square Tube x 0.120" Wall

Picket Spacing

3 3/4" Gap between pickets (94.8 mm)

Post Spacing

72" Center to Center

Section Height

48", 60", 72"

Post Length Available

72", 84", 100"

Height to Top Edge

46", 58", 70"of Rail/Picket

Colors Available

Black, Green, Bronze

Walk Gate Opening

36", 48"

DD Gate Opening

120", 144"
There is no doubt that an ornamental fence can take the appearance of your property to a whole new level. It lends poise, grace and grabs just the right amount of attention without being too loud.
An aluminum ornamental fence provides numerous advantages. Aluminum, as a metal is affordable, aesthetically appealing, durable, requires low maintenance and easy to shape into any design and paint on with any color. The fact that aluminum is nearly impossible to breach, also adds to its value.
The aesthetic appeal of such a fence is incomparable to any other type of fencing, and the best part is that it can be used to mark the boundaries of your property, as well as the internal places like the pool, garden and more, because of the fact that it's resistant to water and provides all the necessary protection you may need.
Choose from a broad array of designs and other installing options including black Ornamental designs and pick one that matches your requirements the most, and look forward to coming back to a house that is both beautiful and safe.